It has been difficult to keep a monthly newsletter current since the pandemic started. Almost every month brings into focus something of grave importance.
Just when you thought it was safe.
Our area–my town and the one adjoining it–has just gone through a fire. Large parts, including many neighborhoods, of Phoenix and Talent were destroyed. I was fortunate that my home and studio were spared. So many were not so lucky. It is heartbreaking to see the destruction and know that so many have lost all that they had. I drove only a fourth of the area and it was impossible to hold back the tears.

It has been difficult to keep a monthly newsletter current since this pandemic started in March of this year. It appears that almost every month brings into focus something of grave importance and what I have to share seems less important and more trivial than ever given the realities of this country and that of the world.

This fire seems to be such an act of destruction that I once again feel it is hard to share what has transpired for me in my world of art. Amongst the tragedies and the grieving, there have been some surprising turns of events for my art that I wanted to share.

As I wrote in my spring newsletter, my work was accepted into four museum shows this year. The first was the High Desert Museum's annual Art in the West auction, for which I sent three pieces. Two were framed prints and one small original. They all sold for the museum. Yes! I was thrilled for them. I just love the High Desert Museum in Bend, Oregon. If you are not familiar with it, click here to learn more.

I was juried into the Leigh Yawkey Woodson Museum for their 45th annual Birds in Art competition. It is a great honor to have been chosen from among so many well-known and talented artists. The show runs from September 12, 2020, to February 21, 2021.
The Coloring Book Page
Coloring books bring back pleasant childhood memories, not only my own of laying on the living room floor coloring with my brother, but also watching my children color together. Bird coloring books were among my favorites; the drawings always seemed magical. Here, the torn page suggests the reality of change and the passing of time. We store treasured items in scrapbooks and boxes, often forgetting about them. When we see a reminder, a scrap of what was, memories surface and we step back in time. I made a conscious choice not to color in the page, leaving it as a blank canvas, so to speak, to encourage viewers to reminisce about childhood and time spent drawing or coloring with freedom and curiosity and love.
I was informed a few weeks ago that my piece was selected to tour to a number of other museums. See the link here. The show will be going to Newington-Cropsey Foundation, Hastings-on-Hudson, New York (March 19 – May 16, 2021); Wendell Gilley Museum, Southwest Harbor, Maine (June 11 – August 14, 2021); Stamford Museum & Nature Center, Stamford, Connecticut (September 3 – October 31, 2021); and Fullerton Arboretum, Fullerton, California (November 26, 2021 – January 23, 2022). I hope if you are near any of these museums you will take in this show.
Here are links to ways to see Birds in Art virtually:
· On the Leigh Yawkey Woodson Art Museum's website, you'll find an album of photographs, including installation views.
· Check out Birds in Art artist-voices videos by downloading their free app and/or via the museum's YouTube channel.
Here's my video slideshow: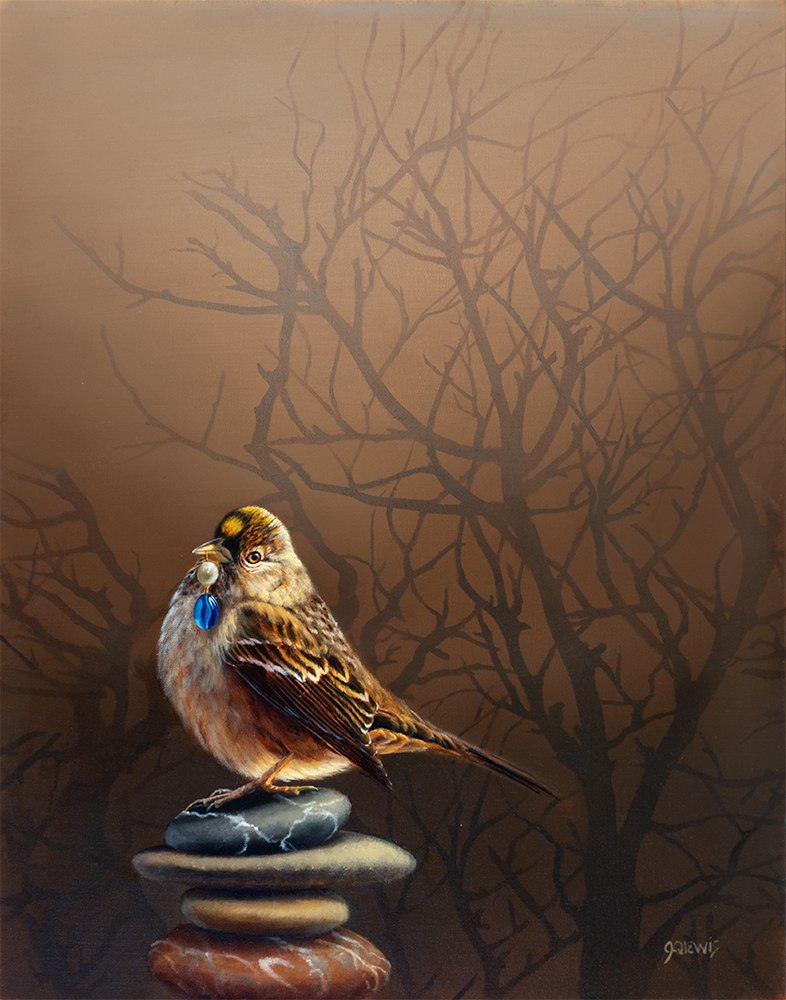 For the National Museum of Wildlife Art, I sent in two pieces for their Western Visions invitational show and auction. I submitted the piece "All That Was Lost is Found." It is a golden-crowned sparrow sitting upon a cairn. The bird holds in their beak a lovely earring of pearl and sapphire. The background is a particular favorite of mine: a dusky forest scene created using multiple transparent layers with two final opaque ones that create an atmospheric quality.
The inspiration for this painting is stillness. Silence. The space between. The use of negative space adds to the thought and feeling of emptiness. The subject invites you to engage in a reflective manner. The bird is gazing outward from the confinement of its place within the composition. The title is an echo of the piece. We all lose something that we treasure but somehow seem to find it again even if it is in something else in life. I hope you enjoy this work as much as I do. It has become one of my favorites.
Finally, I was juried into the Society of Animal Artists members show, that was to be held at the Hiram Blauvelt Art Museum in New Jersey. I received the catalog and have thumbed through the pages numerous times looking at the show. It's such an amazing gathering of art and artists sharing their views and respect for the animal world.
Click here to view the collection.
We cling to many things in our lives. Things we deem important. That we treasure and hold on to.
I thought a lot about the pieces of art and mementos I didn't grab from my house when we were evacuated. I thought I'd lost my home and it was a shock to come back and find it still standing. Relief and shock. And sadness for those who did not have the same return.
If you would like to support artists who lost their studios in the fire, or give to a general fund for sharing art supplies with the community, go to Central Art Supply in Medford and donate today. Contact them to see if you can give over the phone.
I think this is quite enough to digest. I hope that these unprecedented times settle into a routine and I can feel as though I can continue to muse with you all here. Though with the election this week, I don't think this will be likely.

I do wonder how you all are faring?
And please, vote.

Photo credit: The Vote photo is from Pepper Trail, a forensic ornithologist, naturalist, photographer, writer, and world traveler from Ashland, Oregon.