My art is a metaphor for stillness and reflection. It is part of an inner dialogue with emotions that resound within. I exist alongside the work. There is no separation.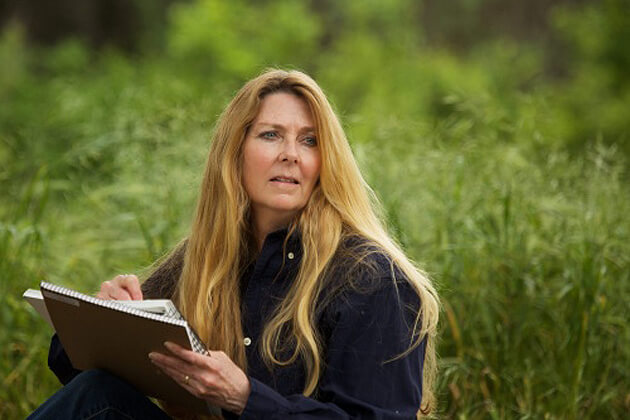 Dusky atmospheric backgrounds and the quiet definition of negative space enhance a contemplative quality in my work. This "space between" becomes imperative. What is left out is just as valuable as the main subject. It helps create a sense of silence and define what there is to focus upon. Negative space as I use it allows the viewer to notice what I wish to express and emphasize.
Many of my subjects are birds. Each species has their own personalities and lore. Whatever they mean to me will be interpreted by a viewer's own experiences. Yet there is a universal attraction that draws us in to wonder about these beautiful creatures.
"The language of birds is very ancient, and, like other ancient modes of speech, very elliptical: little is said, but much is meant and understood…" –Gilbert White (1720-1793)
When I start a piece, it begins as inspiration, then is brought forth by planning and compositional studies. I feel like a traveler beginning a journey. As I work on the emergent piece, I may incorporate many changes along the way. The final painting may be quite different from my original idea.
For the artist and the viewer alike, contemplation, reflection, and meditation are essential to art. The arts open channels of insight to our emotions. Our reception of the work may be at levels we do not recognize or even note. Albert Einstein may have stated this best in his quote concerning science:
"If science, like art, is to perform its mission truly and fully, its achievements must enter not only superficially but with inner meaning into the consciousness of the people."
My art invites the viewer to slow down. To be patient and look. To appreciate our connection to the natural world. And sense what resounds within themselves.
Gallery Exhibitions
2022 (December 16-30) Solo show, Avifauna - A World Within, Meyer Gallery, Santa Fe, NM
2022 (November) Small works show, Trailside Galleries
2022 (September) Group Show, September Song, Mockingbird Gallery, Bend, OR
2021 Solo show, Avian Realms, Meyer Gallery, Santa Fe, NM
2021 Group show, Hanson Howard, Ashland, OR
2021 Two-person show, InSight Gallery, Fredericksburg, TX
2020 Featured, Small Works Holiday Show, Meyer Gallery, Santa Fe, NM
2020 Guest artist, Anniversary Show, Mockingbird Gallery, Bend, OR
2020 Solo show, Avian Gatherings, Trailside Galleries, Jackson, WY
2014-2019 Solo show, New Works, Meyer Gallery, Santa Fe, NM
2015-2018 Small Works Invitational, InSight Gallery, Fredericksburg, TX
2019 Group show, Jackson Hole Fall Arts Festival, Trailside Galleries, Jackson, WY
2019 Two person show, InSight Gallery, Fredericksburg, TX
2018 Featured, Jackson Hole Fall Arts Festival, Trailside Galleries, Jackson, WY
2018 Group show, Birds of a Feather, Trailside Galleries, Scottsdale, AZ
2017 Three-person show, InSight Gallery, Fredericksburg, TX
2017 Group show, Deck the Halls: Wildlife Art Show, Trailside Galleries, Jackson, WY
2002-2017 Small Works Show, Howard/Mandville Gallery, Kirkland, WA
2014 Solo show, Howard/Mandville, Kirkland, WA
2014 Two-person show, Meyer Gallery, Santa Fe, NM
2013 Solo Show, Howard/Mandville Gallery, Kirkland, WA
2012 Solo Show, Davis and Cline Gallery, Ashland, OR
2012 Miniatures Show, Davis and Cline Gallery, Ashland, OR
2010 Two-person show, Howard/Mandville Gallery, Kirkland, WA
2010 Solo show, Davis and Cline Gallery, Ashland, OR
2009 Trompe L'Oeil Invitational, Desired Effects, Meyer Gallery, Santa Fe, NM
2008 Solo show, As Shadows Settle, Churchill Gallery, Newburyport, MA
2007 Two-person show, Howard/Mandville Gallery, Kirkland, WA
2007 Solo show, Living Gallery, Ashland, OR
2007 Lake Oswego Foundation for the Arts 50 Top Regional Artists, Lake Oswego, OR
2004-2005 Solo show, Yoshida Gallery, Portland, OR
2003-2005 Two-person show, Howard/Mandville Gallery, Kirkland, WA
2003-2005 Solo show, Living Gallery, Ashland, OR
2002 Retrospective, Giustina Gallery, Oregon State University, Corvallis, OR
Museum Exhibitions
2022 Soceity of Animal Artists, 62nd Annual Exhibition, Turtle Bay Exploration Park, Redding, CA
2020-2022 Western Visions, National Museum of Wildlife Art, Jackson, WY
2020-2022 Art in the West, High Desert Museum, Bend, OR
2022 Society of Animal Artists, Animals of North America, Customs House Museum, Clarksville, TN
2021 Society of Animal Artists, The Kingdom, at The Midland Center for the Arts, Midland, MI
2021 Society of Animal Artists, Art that Matters to the Planet, at the Roger Tory Peterson Institute of Natural History, Jamestown, NY
2021 Society of Animal Artists, Animal Impressions, at the Arizona-Sonora Desert Museum, Tucson, AZ
2021 American Women Artists, Lifting the Sky: Elevating the Work of American Women Artists, online exhibition
2020 Society of Animal Artists Member Show, Hiram Blauvelt Art Museum, Oradell, NJ
2020, 2019, 2017, 2015, 2007 Birds in Art, Leigh Yawkey Woodson Art Museum, Wausau, WI
2018-2019 Birds in Art National Traveling Museum Exhibition, various locations across the country
2006 Annual Small Works Benefit Drawing, Morris Graves Museum, Eureka, CA
2003 Solo show, Morris Graves Museum, Eureka, CA

Publications
2022 Studio feature, International Artists Magazine, January
2021 Cover art, Die Zeit, Literature section, December
2020 Feature, Fine Art Connoisseur, January/February
2020 Cover, Ashland Gallery Guide
2019 Cover, Santa Fean Magazine
2019 Artist Spotlight, Western Art & Architecture, December
2018 Feature, "Painting Birds in the Park," Lassen Volcanic National Park
2017 Feature, "The National Park Artist in Residence Experience," Ashland Gallery Guide
2017 Feature, "Elegant Restraint," Southwest Art, October
2013 Southwest Art, May
2011 Beginning: A collection of poems, Lewis Enterprises
2011 Feature, Season 12: Episode 14, Oregon Art Beat, Oregon Public Broadcasting
2010 Illusions: New works by Jhenna Quinn Lewis, Lewis Enteprises
2007 Feature, Southwest Art, September
2007 Seattle Homes and Lifestyle, July/August
2007 American Art Collector, July
2006 Southwest Art, November
2005 American Art Collector, October
2003 Southwest Art, December
2002 US Art Magazine, November
2002 Oregon Home Magazine, January
2002 Cover, Ashland Gallery Guide
2001 Southwest Art, December

Collections
Leigh Yawkey Woodson Art Museum, Wausau, WI
Harry and David Corporate Collection, Medford, OR
Scott Valley Bank, Medford, OR
The Honorable Lawton Chiles, Governor of Florida
Tim Allen and various private and corporate collections

Professional Background
2017 Artist-in-Residence, Lassen Volcanic National Park
2004 Studied w Gerald Hodge, Scottsdale School of Art
1999 Studied with David A. Leffel, Taos, NM
1992-1997 Owner/Director, Candy Stick Gallery, CA
1976-1980 Art Education, University of Illinois