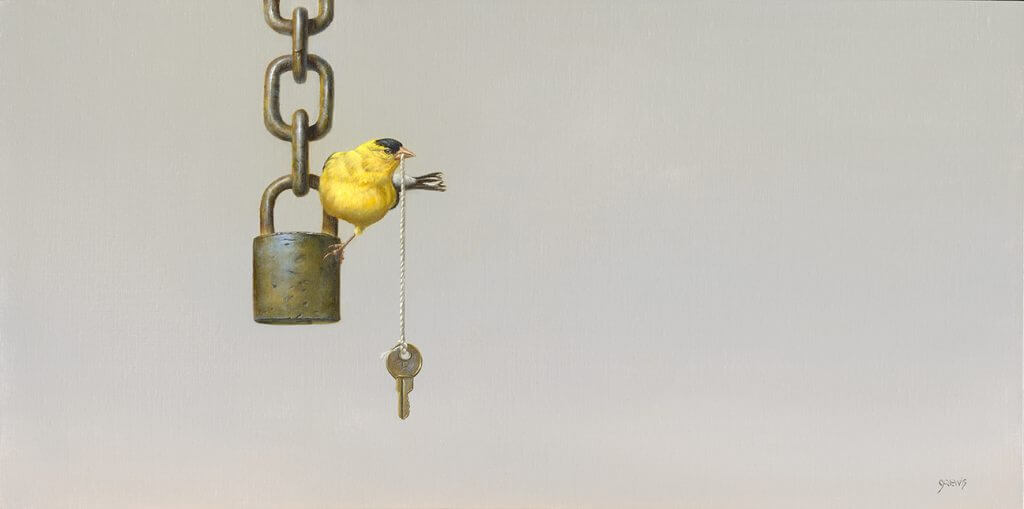 November 7, 2019 @ 9:00 am - 12:00 pm
My piece "The Theft" is part of the 2019 Birds in Art exhibition at Leigh Yawkey Woodson Art Museum. I'm thrilled to be returning to Wausau and taking part in the weekend. I'm looking forward to steeping myself in excellent art and connecting with the artists there.
Here's the schedule for Saturday, September 7:
Meet the Artists, 9 am–Noon Mingle with more than 60 worldwide artists at Birds in Art opening festivities.
Master Artist Talk, 9:30–10:30 am British artist Alan Woollett, the Museum's 38th Master Artist, shares the highlights of his colored-pencil and graphite career.
Artists in Action, 10:45 am–Noon Artists demonstrate their work in various mediums in the Woodson Art Museum's sculpture garden.
Further details:
Visitors browse galleries to see fresh artistic takes on birds by some of the world's most talented artists in an array of mediums, portraying unexpected perspectives, amusing poses, and majestic bearing. The 44th-annual 2019 Birds in Art exhibition presents paintings, graphics, and sculptures created by more than 100 artists who bring a global perspective to their passion for birds. Always free admission. Special opening-weekend hours: Saturday, September 7, 2019, 9 a.m.-5 p.m.; Sunday, September 8, 2019, 10 a.m.-5 p.m. Birds in Art 2019 will remain on view through December 1, 2019. A recipient of the 2017 National Medal, the Woodson Art Museum was one of only two art museums to receive this nation's highest honor for museum service to its community.